July 26, 2020
Posted by:

Stephen Azubuike

Category:

Opinions
In today's world, we have seen and are familiar with how tech companies are using technology to disrupt several business sectors. While many are being pushed out of business as a result, some others are finding ways to innovate in order to remain relevant.
In Nigeria, there are a number of government-owned business establishments. There are a number of these corporations that suffer from inefficiencies and effects of corruption, leading to their being privatized. There are others that battle their way through to remain in business like the Nigerian Television Authority (NTA).
What is interesting is that where government-owned corporations are not acting as a monopoly in a particular industry but is on a level-playing ground with other companies in the private sector, it all boils down to competition in such industry.
We shall see below how the Nigerian Postal Service (NIPOST) planned to disrupt the courier and logistics business.
NIPOST, a Regulator and a Competitor
NIPOST is a government-owned and operated corporation, in the business of providing postal services in Nigeria. NIPOST has other business units including e-commerce and logistics. From a brief history of NIPOST found in its website, it was found that:
The Nigeria Postal service Department came into being with the establishment of the Nigeria Telecommunications Limited (NITEL) on January 1, 1985. NITEL emerged from the merger of the Telecommunications arm of the defunct Post and Telecommunications Department of the Ministry of Communications with the former Nigeria External Telecommunications Limited (NET). Through the promulgation of decree No. 18 of 1987, NIPOST became an Extra-Ministerial Department.
Today, NIPOST is under the control of the Ministry of Communications and Digital Economy headed by Isa Ali Pantami.
Currently, NIPOST has gone through some re-branding and is working hard to play big in the business of e-commerce and logistics and to match the level of competition presented by private companies.
However, the height of these efforts by NIPOST was demonstrated lately by the move by NIPOST to assume the position of both a regulator and a competitor. NIPOST attempted to use the "technology" of harsh regulations to disrupt logistics business in Nigeria, and force private companies out of business, albeit, illegitimately.
This move came in the form of "PROCESS FOR A GRANT OF COURIER AND LOGISTICS LICENCE" published by NIPOST. By the publication, NIPOST moved to dictate to private companies how to apply and obtain operation licences before they can commence or continue in business. The aspect of the publication that raised public outcry was the horrendous sums of money required to be paid as fees for new licences and licence renewals.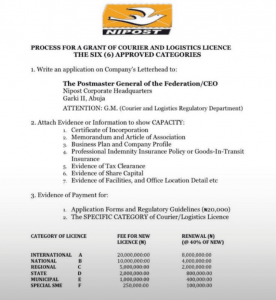 Considering the growth of courier and logistics business in Nigeria, it will not be out of place for proper regulation to be in place. However, the current move by NIPOST is at cross-purposes. The move which was clearly designed to stifle competition was also seen as a means to force many small and medium scale enterprises out of business and lead to inordinate increase in the cost of goods and services.
The Minister of Communications and Digital Economy, Isa Ali Pantami, did not hesitate to distance the Ministry from such move by NIPOST and directed that the implementation process must be put on hold. This is commendable.
It is our belief that the Ministry in conjunction with the Presidential Enabling Business Environment Council (PEBEC) will look into the situation and the agitations, and come up with a decision that will ensure level-playing ground for businesses.